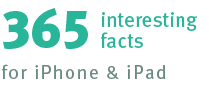 365 interesting facts for iPhone & iPad
365 interestingfacts about celebrities and rare animals, cities and monuments, developments and dates. Learn more and tell your friends about entertaining stories around the world! It's a successful way to make a brilliant display of your knowledge.
Get to know something new every day, you can
▪ load the text in Twitter,
▪ send the stories and pictures in Facebook,
▪ save some facts in «Favorites»
Make a try! It's so much interesting around us!